PSMSL Data Coverage
It is important as a first step to appreciate the limitations of the geographical coverage of the mean sea level data set.
Distribution of PSMSL stations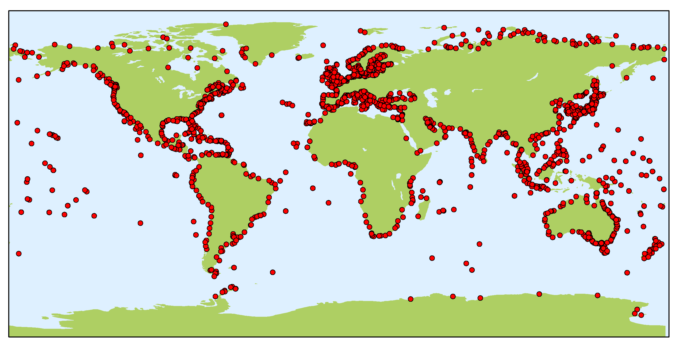 This figure shows the locations of all stations in the PSMSL database (approximately 2000) for which monthly and annual mean sea level information is available. However, many stations have historically only been measured for some months or years. The geographical distribution of longer RLR records contains significant geographical bias towards the Northern Hemisphere (Europe, Japan and USA). Additionally tide gauge records do not cover the same time period
For many applications (including climate change studies) the long term time series are required. The map below shows the locations of sites with at least 40 years of RLR data, which are the most useful records for studies of long term sea level trends. Note that the coverage of this map is much poorer than that of the previous map.
PSMSL stations with at least 40 years of RLR data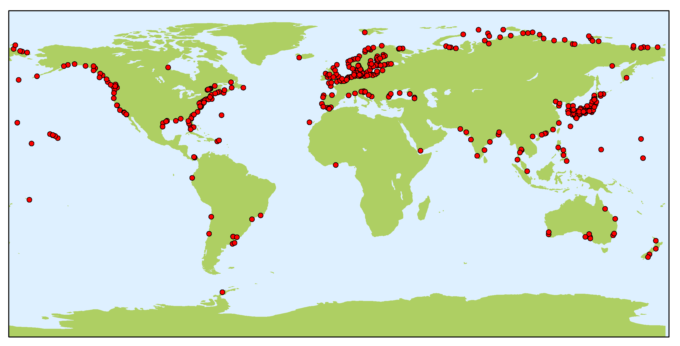 Below is a plot with number of PSMSL stations with RLR data available from Northern and Southern Hemisphere: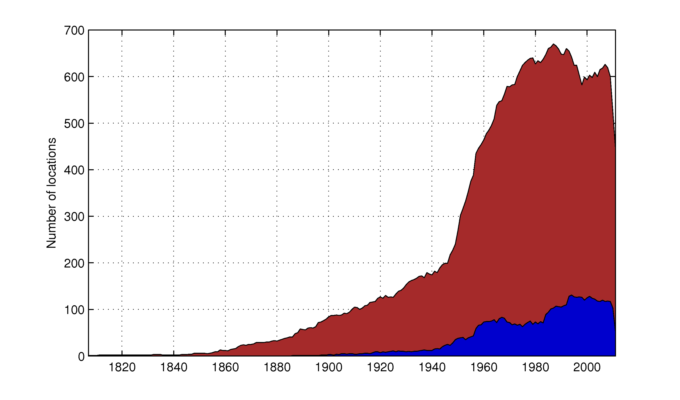 This figure provides the summary of number of the tide gauge measurements available since 1807. Only stations with RLR data are included. Brown colour corresponds to the mean sea level data available from Northern Hemisphere (NH) and blue colour corresponds to the limited number of mean sea level data available from Southern Hemisphere (SH).
Updated: 22 Aug 2012